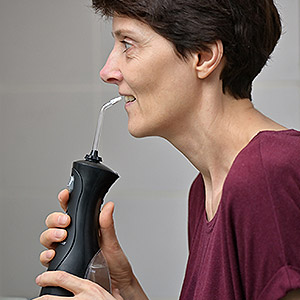 Dental plaque, that gritty bacterial film coating your teeth, is the top cause for tooth decay and periodontal (gum) disease. You can see and feel a lot of it—but not all of it. Some deposits can lodge snugly between your teeth, and can cause dental disease just as much as what's out in the open.
The problem with between-teeth plaque is that even a solid brushing habit might not effectively remove it. That's why you flossing should also be part of your daily oral hygiene.
If the thought of flossing, however, causes you to let out an audible sigh, we understand. Flossing typically engenders less enthusiasm than brushing, mainly because many find flossing time consuming and difficult to do.
If traditional flossing isn't your bag, we may have a reasonable alternative. Oral irrigation is a hygiene method for removing plaque between teeth using a pressurized water spray. You direct the water spray between your teeth using a handheld wand (which somewhat resembles a power toothbrush) and small hose attached to a countertop pump appliance.
A mainstay in dental offices, oral irrigators (or water flossers) have been available for home use since the 1960s. They're ideal for people who have problems with manual dexterity or who may not want to contend with flossing thread. They also make it easier for patients wearing braces to clean between their teeth, a monumental task using regular floss.
As to effectiveness, oral irrigation appears to match that of regular flossing, especially for orthodontic patients. Clinical studies in the early 2000s compared patients with braces using oral irrigation with those who were brushing only. Those using irrigation were able to remove five times as much plaque as the other group.
There are a number of comparable oral irrigation brands on the market from which to choose, and your dentist can advise you on features to look for when purchasing one. Just be sure you're using some method, oral irrigation or traditional flossing, to remove disease-causing plaque from between your teeth—either will go a long way in keeping your teeth and gums healthy.
If you would like more information on flossing methods, please contact us or schedule an appointment for a consultation. You can also learn more about this topic by reading the Dear Doctor magazine article "Cleaning Between Your Teeth."