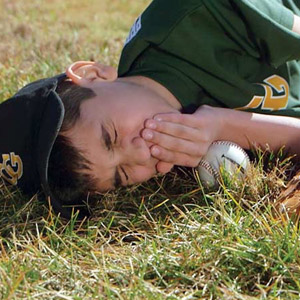 Accidents do happen, especially if you or a family member has an active lifestyle. One such risk, especially for someone playing a contact sport, is having a tooth knocked out.
But as extreme as this injury can be, it doesn't necessarily mean the tooth is lost forever. Gum (or periodontal) cells remaining on the tooth root can regenerate and regain their attachment with the periodontal ligament that holds teeth in place. But you have to act quickly—the longer the tooth is out of the socket, the more likely these cells will dry out and die.
So, by doing the following within 5-20 minutes of the injury (and the earlier the better), that knocked-out tooth has a reasonable chance of survival.
Locate and clean the tooth. Your first priority is to find the missing tooth and clean it of any debris with clean water. Be sure not to touch the root of the tooth and only handle the tooth by the crown (the visible part of a tooth when it's in the mouth).
Insert the root end into the empty socket. Still holding the tooth by the crown, insert the opposite root end into the empty socket. Orient the crown properly, but don't worry about getting it in just right—the follow-up with the dentist will take care of that. You will, however, need to apply some pressure to get it to seat firmly.
Secure the tooth. Place a piece of clean gauze or cloth between the reinserted tooth and its counterpart on the other jaw. Then, have the person bite down on the cloth and hold it. This will help secure the tooth in place while you travel to the dentist.
Seek dental care immediately. It's important to see a dentist immediately to adjust the tooth's position and to possibly splint the tooth to better secure it while it heals. If a dentist isn't available, then visit a local emergency room instead.
Taking these actions on the scene could mean the difference between saving and losing a tooth. But act quickly—the sooner you initiate first aid for a knocked-out tooth, the better its chances for long-term survival.
If you would like more information on what to do during dental emergencies, please contact us or schedule an appointment for a consultation. You can also learn more about this topic by reading the Dear Doctor magazine article "When a Tooth is Knocked Out."