Posts for tag: cosmetic dentistry
By Elmwood Park Dental Center PC
February 12, 2021
Dorit Kemsley isn't shy. Best known to fans as an outspoken and sometimes outrageous cast member of the reality show Real Housewives of Beverly Hills, Kemsley is never reticent about "mixing it up" with fellow castmates or their significant others. Recently, though, she confessed to something that left her less than confident: her smile.
Kemsley has been self-conscious about her smile because her teeth looked noticeably short, worn down from an unconscious habit of grinding her teeth. Although teeth grinding is more common among children (who normally grow out of it by adolescence), it can persist into adulthood, usually from difficulties managing high stress (a likely component in the fashion designer/reality show star's busy life).
Stress-induced teeth grinding can occur during waking hours or, more likely, during deep sleep. The accumulating, long-term effects from the habit can lead not only to worn teeth but to weakened gum support, a high risk of tooth fracture or jaw pain and dysfunction.
So, how do you know if you grind your teeth, especially if it's only happening at night? Typical signs include sore jaws after awaking from sleep, increased tooth pain or sensitivity or, like Kemsley, a noticeable difference in your tooth length. Your family or sleeping partner may also complain about the "skin-crawling" noise you make during the night.
There are ways to lessen the effects of teeth grinding. The first step is to have us verify the underlying cause for the habit. If it's tension from stress, then you might reduce the habit's occurrences by learning better stress management or relaxation techniques through individual counseling, group support or biofeedback therapy. We can also fit you with a mouth guard to wear at night or through the day that reduces the force generated during teeth grinding.
And if you've already experienced accelerated tooth wear like Kemsley with a resultant "small teeth" smile, you might pursue the same solution as the RHOBH star: dental veneers. These thin, life-like wafers of porcelain are custom-made to mask imperfections like chips, staining, slight tooth gaps and, yes, worn teeth.
Veneers are often less expensive and invasive than other cosmetic techniques, yet they can have a transformative effect, as Kemsley's Instagram followers have seen. In conjunction with other dental treatments needed to repair any underlying damage caused by a grinding habit, veneers are an effective fix for the smile you present to the world.
If you suspect you may have a grinding habit, see us for a complete examination. From there, we'll help you protect your teeth and your smile.
If you would like more information on teeth grinding habits and their effects, please contact us or schedule a consultation. To learn more, read the Dear Doctor magazine article "Teeth Grinding."
By Elmwood Park Dental Center PC
November 02, 2020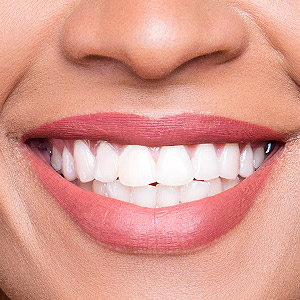 As far as your appearance goes, the most important teeth you have are those in the "smile zone." These are the teeth most visible when you smile—and the ones that awkwardly stand out if they're chipped, worn or otherwise flawed. More than any other teeth, they determine how inviting your smile is to others.
You might think you'll need extensive cosmetic dental work to fix these kinds of dental defects. But that may not be necessary: We may be able to use a dental material known as composite resin to repair the defects in your "smile zone" teeth in one office visit.
Composite resins are a combination of ceramics and plastics that have been around for some time. They've only recently come into wide use, though, with the development of new techniques to bond them to tooth surfaces. They're ideal for chips, cracks, or decayed areas where front teeth make contact with one another. They may also be used occasionally to reshape irregular or misaligned teeth.
You'll first need a complete dental examination to determine if composite resin bonding is an appropriate approach for your situation. If so, we'll begin by preparing the tooth surface to better accept the resin material. We'll then apply the liquid form of the material in layers, along with other agents to increase the material's strength. Each layer is cured (hardened) before applying the next layer.
As the layers build up, we shape the material to achieve a normal tooth appearance. We'll also incorporate your individual color shadings, so that the prepared tooth blends well with surrounding natural teeth. In effect, the procedure requires as much artistry as technical skill to create a natural look.
Though not as strong as porcelain veneers or crowns, composite resins are durable if not subjected to heavy biting forces. And for a few hours in the dentist's chair with minimal tooth preparation, a composite resin treatment can create a dramatic and exciting change in your appearance.
If you would like more information on composite resin bonding, please contact us or schedule an appointment for a consultation. You can also learn more about this topic by reading the Dear Doctor magazine article "Artistic Repair of Front Teeth With Composite Resin."
By Elmwood Park Dental Center PC
June 05, 2020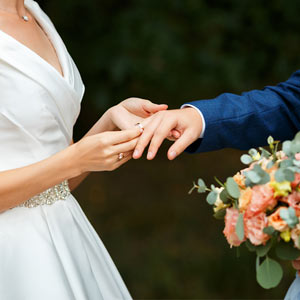 Like thousands of other June brides and grooms, your big lifetime moment has finally arrived: your wedding day! It's been a flurry of activity over the last few months to prepare for it, especially with efforts to look your absolute best. And you remembered everything—including your smile, right?
If you did, kudos to you. Your smile is an important part of your unique personality and thus merits its own special attention. If, however, in all the hustle and bustle you weren't able to give it the attention it deserves before the wedding, don't fret. When it comes to your smile, it's never too late to make it the best it can be.
Depending on your dental situation, here are four ways to achieve a more confident and attractive smile.
Teeth Whitening. Yellowed and dull teeth can dim the beauty of your smile. While daily brushing and flossing helps, you can further improve your teeth's brightness with professional teeth whitening. Our bleaching techniques can give you the shade you desire, from naturally subdued to Hollywood dazzling. And with proper maintenance and touch-ups, your brighter smile could last for years.
Veneers. Dental imperfections like chips, heavy staining or slight tooth gaps can detract from an otherwise perfect smile. We can mask those imperfections with veneers, thin layers of porcelain custom-created to match your teeth. Although less expensive and less invasive than some other cosmetic procedures, veneers can have a transformative impact on your appearance.
Restorations. Sometimes a smile may suffer from severely distressed or missing teeth. Depending on what you need, we can restore your teeth—and your smile—with crowns, bridges or dental implants. The third option is the closest we can come to a real tooth, replacing both a missing tooth's crown and root. With an implant, you can have a new tooth that looks and functions like the real thing.
Orthodontics. Properly aligned teeth make for a beautiful smile. If yours aren't as straight as you'd like them to be, consider orthodontics, the original "smile makeover." Moving teeth where they ought to be improves dental health and function, and can dramatically improve the appearance of a smile. Even if you're well past your teen years, you haven't missed out: As long as you're reasonably healthy, you can gain a straighter smile at any age. However, this improvement needs more time and planning—so don't wait if that's what you want to do!
If you still have time before the wedding, a dental cleaning and polish can do wonders for your smile (and your dental health too). But even if you aren't able to fit in an appointment before the big day, you can still pursue a cleaning or cosmetic procedure after the honeymoon. Any time is the right time to change your smile for the better.
If you would like more information about enhancing your smile, please contact us or schedule a consultation. To learn more, read the Dear Doctor magazine articles "Cosmetic Dentistry" and "Planning Your Wedding Day Smile."