Posts for tag: dental implants
By Elmwood Park Dental Center PC
January 02, 2019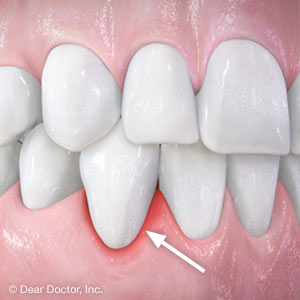 Teeth-replacing dental implants not only look life-like, they're made to last. For one thing, the metals and dental materials used in them are impervious to bacterial infection.
But that doesn't mean implants are impervious to failure. Implants depend on the bone and other natural mouth structures for support. If the bone becomes weakened due to disease, the implant could become unstable and ultimately fail.
Peri-implantitis, the condition that can lead to this kind of failure, is a major concern for implant longevity. It's a type of periodontal (gum) disease triggered by plaque, a thin film of food particles that can build up quickly in the absence of adequate brushing and flossing. The gum tissues around the implant become infected and inflamed.
If the infection isn't properly treated with renewed oral hygiene and clinical plaque removal, it could spread below the gum line and begin to damage the underlying gum tissues and bone. This could destroy the all-important connection between the titanium implant post and the bone. The implant could eventually loosen and become completely detached from the bone.
The key is early intervention before the bone becomes damaged. Besides plaque removal we may also need to apply antibiotics in some form to control the growth of disease-causing bacteria. If the disease has fairly advanced we may also need to consider surgical repair to strengthen the attachment between implant and bone.
You can help to avoid peri-implantitis altogether by practicing consistent daily brushing and flossing around all your teeth including the implant, and seeing your dentist at least twice a year for cleanings and checkups. And by all means see your dentist if you notice any signs of gum swelling, redness or bleeding. Staying on top of your gum health will help not only the natural tissues and remaining teeth in your mouth, it will help preserve your implants for decades to come.
If you would like more information on maintaining your dental implants, please contact us or schedule an appointment for a consultation.
By Elmwood Park Dental Center PC
October 14, 2018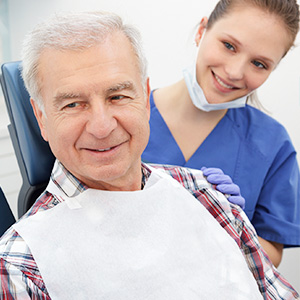 Dental implants are best known as restorations for single missing teeth. But there's more to them than that—they can also be used to support and secure removable dentures or fixed bridges.
That's because a dental implant is actually a root replacement. A threaded titanium post is inserted directly into the jawbone where, over time, bone cells grow and adhere to it. This accumulated bone growth gives the implant its signature durability and contributes to its long-term success rate (95%-plus after ten years). It can support a single attached crown, or serve as an attachment point for a dental bridge or a connector for a removable denture.
The method and design of implants differentiates it from other restoration options. And there's one other difference—implants require a minor surgical procedure to insert them into the jawbone.
While this might give you pause, implant surgery is no more complicated than a surgical tooth extraction. In most cases we can perform the procedure using local anesthesia (you'll be awake the entire time) coupled with sedatives (if you have bouts of anxiety) to help you relax.
We first access the bone through small incisions in the gums and then create a small channel or hole in it. A surgical guide that fits over the teeth may be used to help pinpoint the exact location for the implant.
We then use a drilling sequence to progressively increase the size of the channel until it matches the implant size and shape. We're then ready to insert the implant, which we remove at this time from its sterile packaging. We may then take a few x-rays to ensure the implant is in the right position, followed by closing the gums with sutures.
There may be a little discomfort for that day, but most patients can manage it with over-the-counter pain relievers like aspirin or ibuprofen. It's what goes on over the next few weeks that's of prime importance as the bone grows and adheres to the implant. Once they're fully integrated, we're ready to move to the next step of affixing your crown, bridge or denture to gain what you've waited so long for—your new implant-supported smile.
If you would like more information on dental implants, please contact us or schedule an appointment for a consultation. You can also learn more about this topic by reading the Dear Doctor magazine article "Dental Implant Surgery: What to Expect Before, During and After."
By Elmwood Park Dental Center PC
April 27, 2018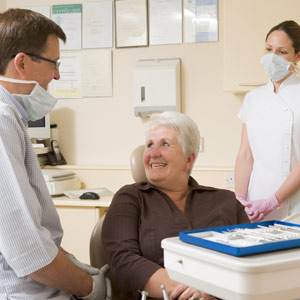 Implants are highly regarded by both dentists and patients for their versatility and durability. But it's their life-like appearance that "seals the deal" as the restoration of choice — not only mimicking an individual tooth, but emerging from the gum line and blending indistinguishably with other teeth in color and symmetry.
To achieve this result, we must consider a few factors beforehand, particularly the amount of bone available at the intended implant site. An implant requires a certain amount of bone to properly position it for the most natural crown appearance. The bone present around adjacent teeth can also affect your appearance: in the absence of adequate bone the papillae, triangular shaped gum tissue between teeth, may not regenerate properly between the implant and the natural teeth. This can leave a noticeable void, what dentists call "black hole disease."
Bone loss is a significant problem particularly after tooth loss. It's quite possible for you to lose a quarter of the bone's width in the first year after tooth loss. To avoid this, we often use bone grafting techniques immediately after extraction to lessen bone loss; if it's already occurred we may be able to use similar reconstructive techniques to rebuild and encourage renewed bone growth. In the end, though, if there remains a significant level of bone loss it may be necessary to consider another option for tooth replacement other than implants.
The thickness of your gum tissue, a genetic trait, can also have an impact on the implant's ultimate appearance. Thicker gum tissues are generally more resilient and easier to work with surgically. Thinner gum tissues are more susceptible to recession and tend to be more translucent, which could cause the underlying metal implant to be visible. Thus, working with thinner gum tissues requires a more delicate approach when trying to achieve a visually appealing result.
All these factors must be balanced, from implantation to final crown placement. But with careful planning and attention to detail throughout the process, many of these issues can be overcome to produce a satisfying result — a new and appealing smile.
If you would like more information on the aesthetics of dental implants, please contact us or schedule an appointment for a consultation. You can also learn more about this topic by reading the Dear Doctor magazine article "Matching Teeth & Implants."